Honoring Early Animal Communicators: Val Heart
This series highlights the inspiring breakthroughs of early animal communicators, who began their professional careers thirty or more years ago. Val Heart has cultivated expertise in an ever increasing variety of healing modalities to help animals and their people. Amber Petrik interviewed her for this "Featured Animal Communicator" column for
Species Link
,
The Journal of Interspecies Telepathic Communication,
Issue 82, Spring 2011.
Learning to Love

"I started out a lonely only child in an isolated rural area outside of Austin, Texas. When I was 13 years old, my parents and my rancher grandfather gave me one of the greatest gifts of my life," begins internationally recognized animal communicator expert and master healer, Val Heart.

"She was four-legged and hairy, with big brown eyes that saw through to my soul and a pair of lips that could open any gate. Her name was Maisie, a six-year-old Welsh pony; she was my first horse and my first love. I fell head over heels the instant I met her.

"Thanks to her, I survived some very difficult teenage years. Manically depressed and even suicidal at times, I learned that in my darkest moments, I could go to my animal friends and receive comfort, guidance, and strength.

"In the wee hours of the night, I would often sneak out to the barn to throw my arms around her neck and cry in her mane, expressing my heartache and soul's agony about my life. I had no one else to turn to and she was always there for me. She gave me the best advice. I always left comforted and more at peace."


Finding Purpose

Though Heart is an accomplished author with published works ranging from magazines to books and has made guest appearances on television and radio as an animal communicator, that is not where her career started.

Originally, having graduated with a master's degree in business and marketing from the University of Texas at San Antonio, Heart set up and ran a successful marketing consulting and research firm for a number of years.

"I soon realized I was totally miserable sitting in a cubicle designing surveys and running statistics for clients all day," confesses Heart. "I also realized I was desperately unhappy, trapped in a bad marriage and I felt like I was missing my true purpose. I wanted to do something that brought me joy while being of service to others. Praying and asking for guidance, I found the one thing that consistently brought me happiness and peace—being with and working with animals."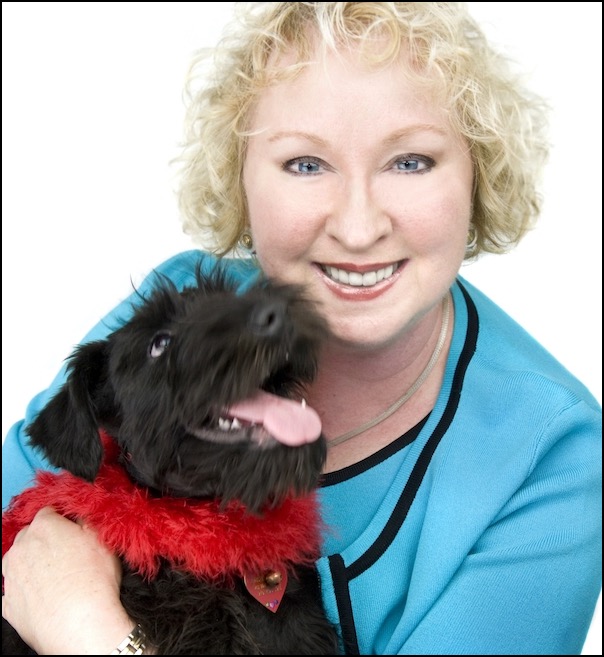 Val Heart with Einstein

In the early 1980s, Heart became more aware of meditation and other therapy techniques. Through these practices Heart began to tap into and master her intuitive gifts. "These experiences set the stage for my life's work," she says.

Even as a child, Heart displayed great empathy towards animals. "I didn't know how I knew what they felt or needed or were thinking, but I did. I was known for being able to befriend wild animals, feral cats, dogs, and many others."

Her first successful clear communication with animals, however, did not occur until later in her life as an adult.

"It was an amazing experience and opened me up to a whole new world of communication," said Heart. "In 1992, our two cats were in danger of losing their home—if not their lives—because they insisted on using my husband's expensive stereo speakers as their personal scratching posts. In a moment of desperation, I decided to use one of the meditative techniques I'd learned, something similar to Neuro Linguistic Programming. However, instead of focusing inward into myself—I decided to focus toward them. Afterward, they simply stopped using the speakers and all was well."

"After exploring this wonderful gift of being able to hear and heal animals, and testing myself in a wide variety of situations and challenges, the results spoke for themselves," Heart relates. "I originally discovered my ability to communicate with animals on my own and had no idea anyone else had ever done this. Shortly after my gift revealed itself and began blossoming, I discovered Penelope Smith and went to her beginning course."


Many Modalities

Because of her curiosity and drive to learn, Heart went on to receive training in The BodyTalk System, The Fernandez Body-Mind Assessment, Lionheart Institute (closely modeled after the famous Barbara Brennan School of Enlightenment and Healing), T-Touch, and T.E.A.M. methods of working with and healing animals
.
Heart is also certified to teach Penelope's basic course.

Heart chose these wellness practices because of their multi- dimensional, all-encompassing, and truly holistic approaches to healing. These modalities can be used effectively on humans and animals alike.
"I've combined these modalities, my lifelong experience in training animals, and my innate gifts to create my own proprietary approach to wellness, for animals and the people who love them," says Heart. "I opened my first human practice in 2001 at the insistence of one of my mentors, Charlene Doyle, who had received so much value from our work together that she wanted to send her clients to me."

In her practices with both humans and animals, she specializes in healing muscular-skeletal problems, trauma, cranial injuries, chronic pain, allergies, illnesses, and environmental sensitivities. Heart also has a special focus in her animal work, concentrating more on working with dogs, cats, and sport horses (dressage,* reining, and cutting horses are a particular passion of hers).

"My clients and students see me as their 'go to animal expert' as a mentor, personal coach and a friend. Practitioners in other fields (including professional communicators, healers, veterinarians and trainers) often send their most difficult cases to me, because I'm known to be able to facilitate change, healing and go deep when it's needed," she adds.


My Promise

"Early on, I discovered that much of what goes wrong with animals is a reflection of, or a reaction to, their caretaker's imbalances," Heart explains. "I began searching for ways to help people with their life issues and challenges, helping them with relationships, careers, and health. So depending on what the animal has to say, I am able to make real progress toward resolving the problems in the fastest, most beneficial way possible for all concerned."

During a session, Heart first focuses on facilitating understanding of the human-animal body-mind connection because a lot of animal behavior and experiences stem from their relation- ships with humans.

Secondly, she teaches people to communicate with their own animals by offering coaching and support. This deepens heart center bonds and helps create a better understanding and connection between the pair. She's also created the world's first complete
Animal Communication Made Easy System
, based on her methods of learning animal communication.

"I promise that if my client doesn't agree that by the end of their session that they have four fundamental results, I refund their money." By providing her
Four Fundamental Results Guarantee,
Heart starts sessions off on a professional tone. Her
Fundamental Four
are:

1) An individually tailored
Action Management Plan
—so they know exactly what to do and how to do it to help their animal be
better behaved, healthier, and more balanced.

2) More peace of mind about what their animal really needs and wants, what the real issues actually are so they address them more confidently.

3) Greater clarity about what is needed to improve their relationships, connect at the heart and mind level.

4) Better overall balance in body, mind, and spirit for them- selves as well as their animals.

Though Heart is very confident in her ability to communicate with animals, she does admit that she can't always connect. "I enjoy a success rate of better than 90 percent, but this isn't mind control! If your animals don't want to change, I can't make them. My goal is to offer insight, clarity, and guidance to help resolve problems between you and your animal friends."


Changing Lives

With her combination of practices, Heart has been able to build a very satisfied and loyal customer base.

"I finally got my dream horse—an 11-year-old Grand Prix dressage Andalusian stallion—and from day one had problems. He arrived from across the country stressed and upset. Then, he foundered as a result of gelding surgery a couple of weeks later and nothing we tried helped him heal," says celebrity and business success coach, Kendall SummerHawk. "Immediately, Val was able to quickly and confidently get the information we needed to help treat him properly. Feeling hope for the first time I stated practicing what Val taught me and that same day we were on the road to recovery.

"Val's work has changed my life with this horse and with all of my horses forever. I continue to get regular sessions with her, as I'm eager to understand what my horses are trying to tell me."

SummerHawk is not the only one who has experienced success though Heart. "You started me on a new path," explains Barbara B. of Loneview, Washington. "My formerly fractious pack is sitting here around me calmly. It seems like a miracle but it is not, just the results of listening to someone who really knows what she is talking about and can communicate that effectively to others. Communicating with understanding really is the key."


A Champion Apology

"Many years ago I went to a Pre-Olympic Trial Dressage Competition and was introduced to a world class upper level dressage horse and his owner/rider/trainer.

"As soon as this man learned that I could communicate with his horse, he dragged me across the arena telling me, 'You have to talk with my horse.' It seems that when they were in practice sessions, his horse was brilliant and perfect. But when they entered the show arena, he consistently messed up the intricate and subtle movements, causing their scores to be low. He wanted to know why.

"His horse told me that he was very angry with his human, and went on to outline why. He loved his work and was very good at it, and he knew what it meant to win. He liked being the best, and loved applause. He also knew that the show arena was the only place he could get back at his owner and not be punished for it. Among other things, he felt his human overworked him in practice, going over and over the same movements until his horse was sick of them. He wanted to be rewarded when he did things correctly and he wanted an apology from his human.

"When I explained this, his human tried to shrug it off with an insincere apology—to which his horse responded by turning his back to us, swishing his tail, clearly refusing the apology. His human stormed off clearly angry, and left me there in the stall alone with his horse.

"The horse turned back to me and shared that he felt pleased that he'd been heard, and confident that he was right in his position. He suggested that we wait and see what his human would do.

"Sure enough, about 15 minutes later the man came back. He quietly acknowledged that his horse was correct in all his points and went on to offer a sincere apology. I was relieved to witness his horse accept it when he reached out and touched his human gently with his nose.

"The next day I was awakened early by a phone call from the trainer. 'I have horses and humans that you need to work with here in Houston. How soon can you get here?'

"It turns out that after our talk, they went out and won their competition!"


The Danger of Orange Cones

"Once I was called in to work with a horse who was acting strange and his owner was worried about him.

"I connected with the horse and explained that we were worried about him. Could he tell me more about what was going on with him so we would know how to help him? He replied that he had a headache.

"I asked him if anything had happened to make his head hurt, and he showed me an image of himself prancing and dancing around his ten-acre pasture with a large orange construction cone clenched between his teeth.

"He loved to 'throw' the cones at his pasture mates (a mule, a paint horse, and two longhorns—none of whom found his antics funny in the least). He'd dunk them in his water trough, and hurl them into the neighbor's field scaring their sheep...

"One day, it finally all came undone.

"Apparently he'd gotten a little too vigorous tossing his head with it, because the rubber started tearing. On that last big upswing it tore in half and the heavy end beamed him right in the middle of his forehead.

"He told me he saw stars (like a cartoon!) and stood there dazed, with the remaining bit of orange rubber dangling from his mouth. His head had hurt ever since. Mystery solved."


Making A Difference With A Dream

As a final point, Heart adds: "Einstein, my dog, has a great new collar—I had a blast picking it out for him, and I really admire the colors on his gorgeous black coat. A great new collar isn't the cornerstone of our relationship, however, and it really doesn't matter much to him.

"What matters to him is that I'm able to hear him when he doesn't feel well; that he can tell me what the neighbor's dogs are gossiping about and what Lucy our cat just told him; that he can share the exciting new thing he just discovered; and, that when he's confused or frightened or worried about something I can help explain things better so he understands.

"What matters to our animals is that we are able to connect at the heart and mind, with true understanding, and that we know how to communicate with them on a daily basis. It allows us to better understand that we are not alone, that we are connected, and that we can help each other. Many companion animals choose to spend their lives attempting to break through our barriers, help us heal and become reconnected with all of Life and our
Divine Nature.

"I have a dream.

"My mission and passion is to improve the lives of animals the world over by helping humans learn how to speak their language, understand their viewpoints, and heal. After all, our love of animals helps us learn how to be better humans, and the more balanced and healthy we are, the more balanced and healthy they can be too.

"A tribe of animal lovers who can help animals in their time of need, listen to their stories, ease their aches and pains...and who know how and when to take appropriate action on their behalf.

"Our animals, with their infinite wisdom, unique viewpoints and remarkable intelligence, can talk back to us. And when they do, it helps complete us as a species. It makes us better people, wiser, more connected and more in touch with what really matters—for ourselves and for the generations who come after us."


*Dressage is a style of classical horseback riding popularized by the Austrian and Spanish Riding Schools of classical horsemanship.