The Passing of Animal Communicator, David Louis
David Louis left our Earth abode for spaces beyond on January 24, 2023. As I ponder and connect with his journey, I'm writing this tribute to him.

He was a dedicated student who took all my courses and assisted me many times when I taught on the East Coast at Kripalu Center for Yoga and Health and Omega Institute. We had many heartfelt conversations. He loved his work and took a very down-to-earth and richly healing approach to helping people with their animal companions. His professional consultation and teaching work extended over twenty years. His Facebook page is already filled with stories by people who he helped and who are sad to see him go.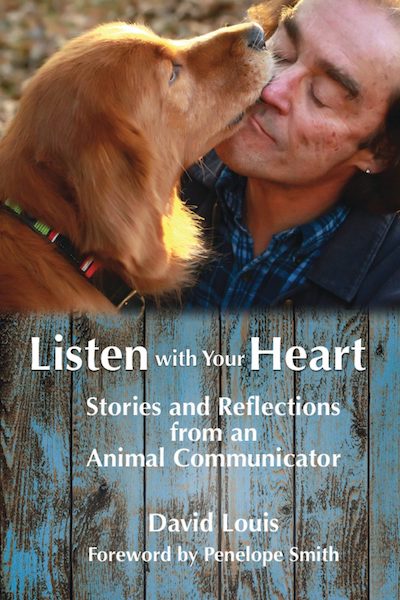 I'm so glad he got to publish his book last year:
Listen with Your Heart:
Stories and Reflections from An Animal Communicator. I wrote the foreword, which I'll share here.

I remember David as an enthusiastic and dedicated student of animal communication. His book shows how he carried his devotion forward in his great love for serving as a mediator for animals and their people. He relates how before he was enlightened by animals and open to animal communication, he believed that animals were inferior to humans and were "just animals."

How he shifted his awareness gives hope for all those who feel distant toward other species. David's book is full of mystical adventures that took him by surprise and entertaining scenes of communicating with animals that led him forward on his journey of discovery.

His honest openness to learn from his continued experience of communicating with animals unveils the universal principles of telepathic communication and healing. You will enjoy the tender tales of communicating heart-to-heart and soul-to-soul David shares and have a lot to ponder about the often miraculous results of animal communication. Reading his book may awaken your desire to discover and further develop your ability to communicate with all species.



To get more of the flavor of David's work and life from his stories and videos, see his
website
. You can also purchase his book there.

Another animal communicator, Anna Anton of London, England, died early this year. She had a listing on my website animal communicator directory, but I had never met her. She also is greatly missed by clients and students who appreciated her loving work.

Blessings to all of you who are doing such great service through interspecies telepathic communication. I, among many beings of many species, am very grateful.