Honoring Early Animal Communicators: Dawn Hayman
This series highlights the inspiring breakthroughs of early animal communicators, who began their professional careers over thirty years ago. This article is based on the "Featured Animal Communicator" column where I interviewed Dawn Hayman for
Species Link
,
The Journal of Interspecies Telepathic Communication,
Issue 67, Summer 2007. I hope you'll find Dawn's story as fascinating as I did.
I've known Dawn Hayman since 1987, when she began her animal communication training with me. I remember her early challenges in opening the doors to her own intuitive abilities and her sparkling progress. I have fond memories of all the time I spent with her and all the animals at Spring Farm CARES in upstate New York where I taught basic and advanced courses in animal communication for nine years. Together, we saw a rainbow arch connecting Spring Farm CARES and my home and land on the ridge top in Inverness, California.

I saw the aftermaths of the fire of Halloween 1993 that destroyed the main barn at Spring Farm and presaged the forest fire that obliterated my home in Inverness two years later. I smashed a champagne bottle on a tractor at the dedication of the ground for Kigercat Hall that became a multi-use meeting hall for classes, sanctuary for animals, and center for artistic events.

I love how dedicated Dawn is to an ethical, down-to-earth approach to practicing animal communication. Her character, integrity, professionalism, and devotion are impeccable. Dawn tells her story.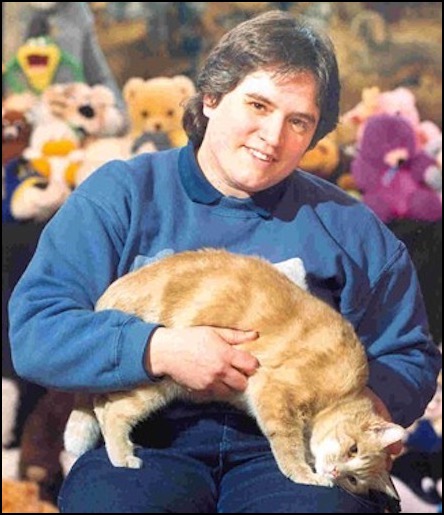 Dawn & Sir Lawrence

Lost

In 1987, I was 24 years old, just out of college after getting my bachelor's degree in social work and completely disillusioned with the field. Feeling like I had wasted five years of my life in college and working very hard to put myself through school, I was lost about what I was going to do. So I did odd jobs to make enough to pay my rent while I tried to figure out what to do next.

I did part-time gardening work for a family friend, Bonnie Reynolds, who had a couple of horses. My family also had a horse they were boarding at Bonnie's farm. I had no interest in working with horses, although I always had a connection to them.

My real passion in life was to help people. I felt that many people were in such pain and they didn't feel like they were heard or understood. However, social work did not provide me with the avenue to work with people the way that I wished.


The Influence of a Nasty Horse

Bonnie had been given a very mean and dangerous horse called Rocky Red and I happened to be on the farm the day he arrived. I was afraid of horses. In the few times I rode them, I never really felt comfortable. They were so incredibly big.

Rocky Red did not further my trust in horses. The second day he was at the farm, I saw him savagely attack Bonnie while she was sitting on a fence watching him running in a paddock. I was horrified.

Bonnie began searching for ways to work with Rocky. She knew she couldn't sell or give away such a nasty horse and his only other fate would be death. I gave her a lot of credit for trying but was not about to get involved. She heard of a way of working with horses called TTEAM with Linda Tellington-Jones and headed out to a two-day seminar in our area.


TTEAM

After the first day of the seminar, Bonnie came into the barn where I was sweeping the floor. She walked up to Rocky's stall, opened his door, and began massaging his mouth and gums. I was shocked. Previously, this horse would bite her even when she went to feed him. I watched in amazement as he let out a huge sigh, lowered his head, and his eyes completely changed from hard and mean to soft and loving.

Rocky never attacked or bit anyone after that day. As Bonnie talked to me about TTEAM and the work Linda was doing, she calmly informed me that she had signed me up for a workshop in Maine three weeks later. She said, "You'll love it; it's social work with horses."

I tried valiantly to get out of the trip but found myself in the car and driving to Maine in spite of my protests. It was the beginning of a passion for and connection with horses that became one of the most profound experiences in my life. In a few weeks, I moved from being terrified of horses and wanting nothing to do with them to joining Bonnie in training to become certified in the Tellington-Jones method.


Animal Communication Skeptic

At one of the TTEAM clinics we attended in California, I first heard of animal communication. At that point in my life, I was completely skeptical of anything that was even remotely psychic or spiritual. I thought that any sort of psychic leanings were just ludicrous. So, when I heard a bunch of people talking about this woman named Penelope Smith who could talk to animals, I thought it was ridiculous and made fun of it in front of Bonnie for the next five days of the seminar.

On the sixth day of the seminar, Bonnie and I got assigned to work with a very difficult horse named Minuet. No one could catch her without lassoing her. It was a very hot day and my patience wore thin after five days of an intense seminar. Now we had to work with the most difficult horse at this farm. Bonnie tried for several minutes to lure Minuet with grain without success.


The Turning Point

The next few minutes transformed my life. Bonnie turned to me and said, "I've noticed, Dawn, that you have a way with animals. They really respond differently to you and come to you when they won't come to others. I want you to try to go in and see how Minuet responds."

I refused but she persisted and so I walked in with a lead rope and nothing else, fully thinking nothing would happen. Minuet had her back to me and I just stood there watching her. She turned her head and looked at me, sighed, and turned to face me. In a few seconds, she began walking until she reached me. I clipped the lead rope on her and walked her to the gate. I calmly asked Bonnie to open the gate. Bonnie was standing with her mouth agape and refused to move until I told her how I did that.

Out of complete frustration, these words popped out of my mouth, before I even heard what I was saying. "She told me she has a headache and didn't want to work in the sun. I told her that we could help her headache and if she came with us that I'd take her out to the shed over there in the shade and we could work with her there and then she'd be done. She agreed."

Bonnie immediately shrieked, "You are just like that lady, Penelope Smith. You can talk to them and hear them! I knew it!"

It felt like the worst day of my life. I have watched so many people over the years struggle with trying to get past their own blocks to hear the animals, and here I got a clear communication and I slammed the door so hard you could hear it all the way back in New York. I begged Bonnie not to tell a soul what happened. However, five minutes later, she told the whole seminar about the experience with Minuet.

Bonnie and I had rented a motor home to drive across country from New York to California and we had brought a paraplegic dog named Max with us on the trip. The following day, a tragedy struck as our dog Max suddenly became ill. We found a vet, left the seminar, and tended to Max. But the diagnosis was a stomach tumor that was so large it would prevent her from eating. She could not withstand the drive back across the country and Bonnie and I were upset about what to do.

I remember looking at Max and she told us plainly that she was ready and it was her time to go. She filled my heart with her message of peace and love and that she was now ready to go. It was the first time I experienced euthanasia. Later, I'd realize that I heard Max loud and clear as well. I said nothing.


Understanding What I Could Do

When I got home, I hoped to put this animal communication stuff behind me and move on with horse training. However the universe arranged a trailer accident with one of our horses. Bonnie had the idea to call Penelope for a consultation. I told her that I thought that was not going to help one bit but if that's what she wanted to do, then it was her money. Yet, I, the skeptic, listened in on the other line for the whole consultation.

I was blown away by what Penelope got from our horse, Deeteza. It was so accurate and incredibly helpful. Bonnie then proceeded to tell Penelope about how I was getting messages, too. Penelope told us about her book and audio series and Bonnie ordered them as a gift for me. When they arrived, I read and listened to them in a day.


Finally, someone described to me in words what I had always found to be my truth as a child and the thing that made me feel so different, so outcast. I had buried this gift consciously and with great effort at about the age of sixteen when I realized that it wasn't "normal."

The door flew open. I gave myself permission to hear the animals again, to feel their hearts connect with my own, to go back into their world that I knew so well.

Life Made Sense

I suddenly knew where I needed to go, what I needed to do, and where I was supposed to be. For the first time, my life started to make sense to me. The world that reopened in front of me was vast.

Deeteza, the horse who had the trailer accident, and Rocky, the one who had been so mean, began to take me under their tutelage.
They reminded me about the spiritual connection of all of life and I started a crash course in spirituality. Never again could I say I didn't believe in anything.


To my amazement, I went from feeling completely lost to being lovingly guided and aware of my mission and purpose this lifetime. I was blessed to find this at a relatively young age. Although I still had many moments of wanting to hide and still do in some ways today, the animals have taken me on a phenomenal journey.

By 1988, I did my first professional consultation. By 1991, I was teaching workshops in animal communication. I was helping people find their hearts and to learn to listen and be heard. I was doing what I had been guided to do. The path to get there was much different than I ever could have imagined.


Training

After reopening my communication ability with the animals and gaining some confidence, I was very drawn to teach others to find the same inner connection. Bonnie and I hosted a workshop with Penelope here at our farm. By then, we had become an animal sanctuary, predominantly for horses, and we called ourselves Spring Farm CARES. We wanted to share with people their connection to horses and other animals. We became a sanctuary for animals who had no where else to go. Many of them were master teachers for me personally, but they also came to teach other humans. I wanted to be a part of that and knew that was my next step.

After meeting Penelope, I took her advanced courses in Point Reyes, California and later her training to teach the Basic Course. Bonnie and I decided that we would turn our sanctuary into a center for teaching animal communication. Today, twenty years later, it remains such a place, although vastly different in our depth of knowledge, connection, and commitment.


Social Work with a Twist

My training in social work was far from wasted. I now use what I learned from it every day. From consultations to teaching workshops, this training gave me a good background in working with individuals and groups.


I frequently hear people say that they want to become an animal communicator because they like working with animals more than people. What I have found and firmly believe is that this work is with people. Many animals have come to work with people, also.
The animals have been both my teachers and my co-teachers. They continue to help me to open my heart and to help open the hearts of others. This is exactly the work that I had longed to do, although I had no clue it would be with animals or take me to the places it has taken me.


Intuitive Beginning

Looking back on my childhood, I can see how and why my intuitive abilities remained so open for a long time. Although I did not have many animal companions as a child, the ones that were in my life played a very important role for me. Most of the time, I could not get support from the adults in my life, and it was my animals or nature that gave me support, connection, and peace. I did not really connect with other children my age and throughout my life, my friends have been many years older than I. As a child, I looked to my dog for security. When things got really hostile or uncomfortable at home, I would go out and sit in my favorite tree, sometimes for hours at a time.

Memory plays tricks on us at times. I have an adult memory that I thought was probably my first really profound communication as a child. I could recall that an event happened in my life that was very traumatic and difficult. Not knowing where to turn, I took my dog for a walk under the night sky which was filled with stars. I remember lying on a grassy ridge on my back and just watching the stars. I prayed that I would find comfort and guidance. I clearly remember the most amazing thing happened.

As I lay there crying, a message came and filled me. First I was filled with great benevolent warmth. Then I "heard" this message:
"I will always be here for you and you will never be alone. One day you'll understand this more, but trust I am here."
I remember this vividly. After I had been doing animal communication for a while, it occurred to me that this message must have come from my dog. I was eleven years old at the time.


A Friend with Me Always

Years later, in 1994, I lost one of my dearest friends, my horse Deeteza. She was a rock for me to lean on, an incredible teacher and guide and still is today in spirit. After her death, I was having an in-depth discussion with her about her role in my life. She then asked me to recall that day as a child when I got the message under the stars. I said to her, "You mean from my dog?" She said,


Look more closely at that memory. Sometimes when we can't make sense of something, we fill it with something that makes sense in our memory. Up until now, the details of that memory were not important. It was the message you needed to hear and understand. Now I ask you to focus on the details because now it is time for you to understand the message in its entirety and what it means. You remember the event that drove you out under the stars to pray and ask for help. Take a close look at how old you were then and what dog would have been with you.


I clearly remembered which dog was with me so I was uncertain about Deeteza's message. However, as I really looked at it, with a rush of disbelief I realized that the dog I had pictured in that memory did not come into my life until I was sixteen years old. I never had caught that discrepancy before. The night I prayed beneath the stars for answers and for someone to be there with me, I didn't have a dog. As I realized that, the memory became clear. I was alone that night, lying on the grass crying and looking up to the stars. As I had that realization, Deeteza spoke to me loud and clear.


You couldn't understand this then or make sense of it. Now you must know the truth.
You reached out to the universe. Prayers are always answered.
I was living in Texas then and also was standing beneath the stars that night, wondering who I was to connect with in this lifetime that I could share my heart with and my gifts. I stood there understanding the universe. You lay there doubting the universe. It didn't matter. In that instant, our hearts connected and I gave you my message that I'd always be there for you. This is the time now to trust that message more than ever. Just like we ended up together in life, we will always be connected in spirit. I will always be with you and the stars will always connect us. Never forget that.


That conversation with a horse in spirit brought new perspective to my life and a sense of trust that I never had. However, my human mind still could not grasp what she was saying. I had to find "proof" of her message.

Deeteza had papers and the details of her life could be determined by following her "owners" over the years. I got her papers out, looked up the year she mentioned when she was in Texas. To my complete amazement, I discovered that she indeed lived in Texas during that time period—a fact I could not have known before. This discovery profoundly moved me and made me realize how even out of complete chaos in my childhood, I was being gently and lovingly guided to where I needed to be.


Buried Awareness

As a young child and through my early teens, I was aware that I was communicating with animals, plants, trees, and even other humans telepathically. I was aware of many precognitive events, and I had very vivid dreams with guides teaching and showing me things. However, I never spoke of these things to anyone. I can remember when I forcibly turned this psychic connection off or turned away from it, out of fear of being abnormal.

However, when I got into college and studied social work, my telepathic abilities resurfaced, only I didn't realize it at the time. My clients and roommates told me that I would speak aloud, replying to things they hadn't told me yet. I had no awareness of this and couldn't figure it out. Then I was blessed with a professor who took me aside one day and told me that she thought I was extremely psychic. She told me not to fear it as it was a gift. She also told me to be aware of the ability so that I could understand when I was getting information that wasn't being told to me verbally. Again, I deliberately shut it off.

The animals themselves and the work with animal rescue were the beginning of reopening that door and leaving it open.
I thought I was helping to rescue animals, only to discover that they were rescuing me.
The Cornerstone

One of the strongest things I was drawn to from the very beginning was the
Code of Ethics
that Penelope had written. This code of ethics spoke to something deep within me and I knew that it was a part of what I was to do. The cornerstone of my practice has always been to enhance the relationship between human and animal. I also noticed that
when humans opened up their communication and relationships with their animal companions that they would also do the same with other humans in their lives. I would see that one heart would open another and then another and on it flowed.

Teaching Program

Starting in 1991, I began teaching what developed into four levels of workshops ranging from introductory to advanced and then a mentoring workshop for those wishing to go onward in the field of animal communication. I have taught these workshops from my home base of Spring Farm CARES. As an animal sanctuary, we are home to 250-300 animals from horses, donkeys, llamas, goats, and sheep, to ducks, chickens, rabbits, dogs, and cats. Many of these animals came to our facility specifically to teach and participate in the workshops. We have been blessed with many master teachers living with us on the farm.

My style has always been to teach from a center of compassion and humor. In consultations over the years, I have worked with very traumatic situations such as health crises, traumatic deaths, and animal cruelty cases.
The thing that always has struck me is how animals continue to love unconditionally and to live in the present moment. They have taught me to try to look past my own judgments, and to see things from their perspective
. It is always a very humbling experience.


Sanctuary

As co-founder, Spring Farm is my life, my heart, and a way of spiritual living. As my clientele developed in the early 90's, the animal communication revenue was one of our key financial supports. My work then continued to help feed my passion and my heart work at Spring Farm. At one point, I was doing an average of eighty consultations per week. I did that volume for about two years before I realized that I could not keep up with that pace.

Being involved in the rescue community through Spring Farm CARES has given me a much different perspective in the world of animals. Frequently, I have had to deal with animal abuse and animal cruelty cases. I have also done considerable work with humane society and shelter personnel centered on the harsh reality of their work environment and how animals and humans deal with that environment. It has been the most difficult yet one of the most rewarding parts of my practice over the years.


Specialties

My specialties are animals with physical problems and understanding and enhancing the human/animal relationship. I have done extensive work over the years with veterinarians, helping them to learn more about animals' physical problems by working with the veterinarian and the animal on where they hurt and what it feels like. I have worked with a vast array of domestic and wild animals in my practice including many animals in high level performance, rare breeds, exotics, zoo animals, and animals in wildlife refuges.

I have also worked extensively with animals who have suffered traumatic accidents, abuse, cruelty, or neglect, and the people caring for them. These have been some of the most difficult parts of my practice over the years. With an insider's view of the rescue community, I have often been able to bring the animals' concerns, problems, and feelings into the discussion. Frequently in rescue, when a great number of people arrive on the scene of an animal abuse case, the rescuers become part of the animals' trauma, even though they are trying to help get them to safety. I have worked with both the animals and the rescuers, to try to make their experience an easier one. We can take into consideration the animals' fear and levels of discomfort and help them by keeping bonded pairs or groups of animals together and coaching people on how to move around them to minimize their stress and discomfort.


My Role

My role as an animal communication practitioner and teacher is
to help humans to open their hearts and to reconnect with animals, nature, the planet, and themselves.
Helping people to find and remember their connection to all of life is critical for the very life of the planet. Humans have forgotten how to listen and be a part of the world around them. However, once they find that relationship again, they walk differently on the Earth. I also do a lot of work with reconnecting humans to the spirit world around us.

How animals view the world, their situations, and their thoughts on life and spirit have had a major impact on my life. I approach every consultation and teaching experience as a chance to meet new beings, human and animal, and an opportunity to see life through different vantage points. Sometimes it is challenging, sometimes it is fun, but it is always rewarding.

I like to emphasize to clients is that they truly do know their animals and are already actively communicating with them on some level. Each consultation is an opportunity to gain clarity and better understanding of their animal's feelings and viewpoints. When dealing with people whose animals have passed or are preparing to pass, I like to remind them that their heart connection with their animal friends is eternal and very real. The animals have asked me to tell their people that even though they will not physically be with them, they are definitely there in spirit, in thought, and in their hearts. I find that to be a very powerful healing truth.


I also like to let people know that if anyone tells them something about their animal that doesn't feel right to them, that they should question it because they know their animals so well. The danger here is that we may do things with our animals that we know doesn't feel right when someone who we perceive as an authority has told us to do it.


With students, I emphasize that the most important aspect of animal communication is being aware of our own personal growth, understanding, beliefs, and judgments. It is important to keep an open mind and an open heart. Animal communication is as much about working with people as it is with animals. We will sometimes be wrong in our translations and understandings of what we receive telepathically because we translate through our own understandings and experiences. I like to emphasize the code of ethics because I think that is very important, especially as this profession continues to grow.


Departed Friends

Some of the most rewarding consultations I've done have been with animals who have passed into spirit. I enjoy helping people reconnect with their beloved friends. We humans can go into horrible places of guilt after we lose a loved one: Maybe we could have done more. Maybe we did something wrong. The list can be endless.

Recently I talked to a cat named Peter who lived with a family for a very short time before he died. The family had adopted him about eight weeks earlier because the family Peter lived with suffered a hardship and could no longer keep him. Peter was not an elderly cat and had never shown any signs of illness. Yet, one day, he suddenly collapsed and later died.

Peter's person, Mary, called me because she was worried that she had let Peter down. She thought maybe she hadn't made him feel welcome enough in his new home or that maybe he just missed the other family so much or felt abandoned by them.

When I connected with Peter, he was full of energy. He immediately told me to tell Mary that he was fine and his passing was peaceful for him. He wanted her to know that his life was fulfilled and that there was nothing she could have done to change the outcome. Peter was simply finished with what he came to do.

Peter gave Mary the greatest gift of understanding. He explained to Mary that he had come to live with a child in the family where he lived before. His work with that child was finished and he had completed what he came to do in this lifetime. He also knew that it would have been very hard on the child if Peter had died while he was there. He told me that Mary gave him the greatest gift of all. She gave him the place, the space, and the love to finish his time here in the physical. She gave him and the little girl closure.

When I told this to Mary, she confirmed that there was a child in the family and a medical problem with the child was the reason they had to give Peter away. She told me that she understood what Peter was saying because Peter didn't die right away so Mary was able to call the family he had come from and the mother and little girl came over to say good-bye before Peter died. They commented on how grateful they were to Mary for providing them with that sense of closure. After Peter's message, Mary felt the joy of Peter's life and she understood that although he wasn't with her for long, that she had indeed given him what he needed.


Strange Behavior

Another type of consultation that I find very rewarding is when an animal has a physical or behavioral problem that is not being understood by the humans involved. Once the humans understand where the animal is coming from, the issue is frequently resolved. Unfortunately, not all calls are like that but some have been not only enlightening but also very funny.

I remember one call from a much harried husband and wife who were on the phone to talk to their cat, Tigger. Tigger had developed a most annoying habit of waking them up in the middle of the night. This had been going on for weeks by the time they called me for a consultation.

The odd thing about Tigger waking them up was that it was always at the exact same time, 2:17 A.M. The way he did it was also very unique. He'd jump on the husband's side of the bed first, often landing on his head. Then he'd jump to the bedside table and knock a lamp over, jump to the wife's side of the bed and jump on her, too, and then to her table and knock the phone off. Each night, it was the same routine. I set out with great interest to talk to Tigger and find out what was going on from his perspective.

Tigger told me that he was doing this deliberately. When I asked why, he explained that he was practicing in case he needed to wake his people up for something. When I told his people, who were now suffering from sleep deprivation and just wanted his behavior to stop, they were not thrilled with that response and they didn't understand it at all.

"Practicing for what?" they asked. Tigger said, "Well, you never know when I might need to wake them up. Sometimes they don't listen. So this is like a drill."

Not completely seeing the whole picture here, and with his people getting very frustrated with me, I explained to Tigger that if he kept doing this, they were thinking of finding him a new home. That didn't seem to me to be what he wanted. Tigger exclaimed, "I don't want a different home, I want them to be safe in THIS one!"

I tried to work with Tigger to understand his behavior so this could be resolved. It was then that Tigger asked me to ask his people how he could count on them to wake up if he needed them to. Their response was that they did not want him to wake them up. Then he said, "But that is my job."

That was the communication that finally triggered the full understanding. The wife asked the husband, "Bob, what time was it when the tornado hit here?" I knew instantly that was it.

Bob said, "Oh, wow! I never thought of that! It was 2:30 A.M.!" They then explained to me that a few weeks before, a freak tornado hit their town. There was no warning but Tigger woke them up and they kept ignoring him. Finally, Bob got up to go let Tigger outside so that he could get back to sleep. It was then that he heard the sound like a freight train, saw the severity of the storm, and grabbed his wife and Tigger and headed for the basement. They got there just in time. Although their house suffered only minor damage, they lost several trees and the house behind them was completely destroyed. They suddenly understood that their dear friend, Tigger, was practicing his alert system to get them up when there was an emergency.

Now the cat that they were ready to get rid of was seen as their hero. They worked out an agreement with him that if he woke them up, they would get up and listen to him and check things out. He was not to wake them up to practice anymore. Tigger agreed and the behavior instantly stopped after the consultation.


A Big Lesson from Animals

Some of the greatest impact from communications with animals has been from the animals in our sanctuary. We took in a pony named Sugar. She had been removed from her home because of neglect so severe that it crippled her for life. It was one of the first animal abuse cases I had dealt with and I was seething with anger toward the humans who had done this to her and then laughed about it. They were arrested but with no real teeth in animal cruelty laws in our state, they were slapped on the wrist and sent away paying a $250 vet bill that we had paid to evaluate her condition. I was steaming when we got the news and happened to be standing in front of Sugar's stall at the time.

I turned to Sugar and said, "If you could do one thing to get back at these people, what would you do?" She replied,


Well, first of all, I am here now and doing just fine. I am happy. I am loved. I have all I need. So if I can forgive them, so can you. I am aware that they didn't really know what they did to me. If I had to do something to them so that they understood how I felt, I think I'd lock them in their house for a year and not let anyone visit them.


I was incredibly humbled by her comments. What amazed me was that out of all the horrible things this pony went through, the hardest one for her was being alone. She could live through all the physical hardships but the one thing she never wanted to be without again in her life was her friends. She lived a happy life at Spring Farm and died a few years later, surrounded by her human and animal friends.


I have been reminded many times from many different animals that anger and judgment are not the answers and it is not what the animals want or what they do
. It can be hard sometimes for us to do in the work of animal welfare. However,
if we are to give animals the life of peace that they ask for and deserve, then if they let go and forgive, who are we to keep the trauma alive and rekindle it for them?
It has been one of the most powerful lessons I have learned from animals. The first step to healing is forgiving. It is the first thing they ask us to do for them when they get here to our farm.


Words of Experience

We as animal communicators are the biggest tool we have. The more we learn about ourselves and the deeper we understand ourselves, the clearer and concise we can be.

It is important to know that we sometimes will be wrong. We fall into a trap in thinking that we must always be right or we must always hear every nuance of every conversation, which, of course, is impossible. Equally as dangerous is to think we are always right. We translate and understand things through our own understandings and perceptions of the world. The journey into animal communication is a deeply personal one and one that has given me endless growth, sometimes stretching me beyond my comfort zone, but it is always enlightening and fun.

More about Spring Farm Cares and Dawn's work:
https://www.springfarmcares.org/