Honoring Early Animal Communicators: Anita Curtis
This series highlights the inspiring breakthroughs of early animal communicators, who began their professional careers thirty or more years ago. This article is derived from the "Featured Animal Communicator" column where I interviewed Anita Curtis for
Species Link
,
The Journal of Interspecies Telepathic Communication,
Issue 59, Autumn 2005. Those who discover animal communication later in life can be encouraged by Anita Curtis' adventurous path.

How did you become interested in animal communication?
When I was about 54 years old I read an article in the newspaper about a woman on television who asked her dog to do several things, such as select a card that was posted with others. The cards had numbers on them, and she asked for the card that was the total of 5 and 3. The dog brought her the 8 card. The interviewer asked her how she trained the dog, and she said she thought in pictures and the dog read her thoughts.

I was fascinated and tried to do it with my horse. I mentally asked him to do some simple things: take three steps, starting with your right front leg. Take three steps, starting with your left front leg, and so on. He did what I asked and I was amazed. I wasn't on him or touching him, just thinking the words which formed the pictures. I was afraid to tell anyone what happened because they would think I was crazy. At that point I thought that might even be true.

The next day a friend called to tell me that Jeri Ryan was coming to Virginia (I live in Pennsylvania) to give a workshop on how to communicate with animals. I couldn't wait to get there. That workshop opened doors for me and I walked into a wonderful new world.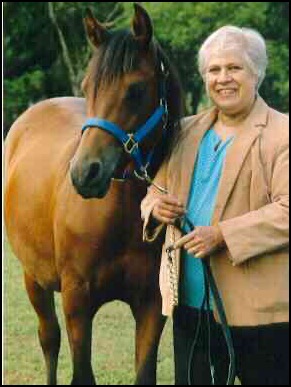 Once I learned to open myself to the words, pictures and feelings the animals sent I couldn't get enough. Animal communication was not just an interest, it became an obsession.
I realized that I had been communicating with animals all my life, but thinking I was making up stories
. I had to learn more and more so I took several more workshops with Jeri Ryan and then went on to study with you (Penelope) in California.

What other kinds of work have you done in your life?

When I was in my twenties, I took evening college courses in accounting until I met the man I wanted to marry. Being with him was the most important thing in my life and remained that way until his death in 1999. I never got my degree, but worked in corporate America in accounting departments for a few large companies. I had some in-between part time jobs that ranged from driving school buses to cleaning houses while my son was young and I wanted to be home for him.

When my son was a teenager, I went back to office work. It was then I took the animal communication workshop and wanted to do communications full time. The company I worked for offered an early retirement package that I qualified for by the skin of my teeth. I was first in line to apply. I left the company on my birthday, January 4, and was on a plane a month later, heading to Point Reyes for my first of several courses with you.


How has your professional practice evolved?

I have been practicing professionally since 1993. When I started I felt lucky if I had two calls a week. Now I have an appointment secretary and a part time person doing office work. I usually range from 20 to 30 or more incoming calls a day and schedule about 10 to 12 calls a day. I schedule calls in the mornings, afternoons and evenings. If I had been asked to work hours like that when I worked in an office I would have laughed and walked out. Working from home is a bonus.


Do you have any specialties, such as certain types of animals, particular healing modalities, or ways of communicating that work for you?

I am happy to talk to any animal. I have made contact with household pets, a zebra, cows, iguanas, fish, and others. I learn from all of them, but there has been some fascinating information from wild animals. I seem to attract more people who have horses, dogs and cats than the other animals.

I feel the physical pain of the animals quickly and am able to verify that I am communicating with the right animal before we start the consultation. I do a lot of calls that involve reincarnation of pets, which is pretty funny since I'm not sure I believed in reincarnation when I was younger. I did come to believe in it before I started communicating with the animals. I think my Higher Power was getting me ready for what was to come. I am still amazed that the animals describe rooms or places in their homes so vividly when they are telling their people where they will return.


How do you see yourself as a practitioner?

I see myself as one who interprets messages and physical sensations from the animals. I do not diagnose or prescribe. I simply describe how they feel so it is easier for the person to communicate with the veterinarian. A few years ago I was delighted to be a speaker at the annual conference of the American Holistic Veterinary Medical Association.

My role in relation to the client is to tell them the wishes of the animal and do so with compassion and understanding.

How do your clients see you?

I'm not sure. I am careful not to climb on any pedestals offered since falling off of a pedestal can hurt. I always remember that any messages come from the animals and I only translate them. I do receive quite a few letters from clients telling me how much their communication meant to them whether it was a quick check-in or a tearful call to see if the animal was ready to leave his body.


What is most important to you in your practice?

It is very important to follow the Code of Ethics. All else falls into place.

Please recount a few memorable experiences in your animal communication practice.

Each day in this business is a new adventure, but after awhile the experiences fade or blur as they are replaced with new ones. I get scolded by some animals if I use a word that isn't precisely the one they want. I have had jokes played on me. A horse joked that he was "pissed off" to tell me he had a urinary tract infection. A dog said he was "ticked off" when he had Lymes Disease. I have cried from stories of abuse.

Here are a few recent experiences.

One evening after I had given a talk to a club, a gentleman came to talk to me. He showed me a photo of his dog, Sport, and said he had spoken to me a few years earlier when he was going to have the dog euthanized. He called me because he wanted to say his good-byes to his old friend before he drove him to the veterinarian's office later that day.

Sport had been quite ill, and it seemed that he was having trouble with his heart. The decision was made to "let him go peacefully" rather than suffer a sudden heart attack.

When I spoke to Sport he wanted to apologize for eating the blue pills, but they did look like they would taste good. He only ate a couple when he realized they were bitter.

The gentleman told me that they realized that someone in the family had dropped a bottle of heart medication. Sport had been in the room when the blue pills had spilled over the floor and was quite interested in the search for any strays.

The trip to the veterinarian turned into a healing process instead of an end of a healthy life. This family dog remained alive and well.

Donna's call to me was also to bid farewell to her canine best friend, Millie. Millie had been sick for some time and was so weak she could hardly stand. It was obvious that it was time for her to move on in her life's journey. Donna called me one morning so I could let Millie know that she was going to the veterinarian that day to be helped to make that move.

Millie said she was almost ready, and looking forward to getting rid of her painful body. However, she wanted to stay one more day. She told Donna that there were good-byes to say. Donna did not understand, but changed Millie's appointment to the following day.

Donna called me a few days later to tell me that some old neighbors they had not seen for years stopped by and got a chance to give Millie their love. Donna's ex-husband stopped in because he couldn't stop thinking of Millie. That evening, Donna's father-in-law came home a week early from his vacation. He said he didn't know why he cut the vacation short; he just knew he had to get home.

The next day Millie wagged her tail and sat by the door, waiting to be free of her pain. Donna knew Millie had carried out her plans.

Mr. and Mrs. Williams had been devastated by the loss of their precious dog, Katie. Katie had an unusual habit of hiding one of her biscuits in the sofa cushions. If Mrs. Williams dug the biscuit out and offered it to her, Katie would turn her head aside as if she didn't see it. If Mrs. Williams was cleaning and threw the biscuit out Katie would replace it at once.

Katie had promised to come back to the Williams in a new healthy body. She said she would come through a rescue dog at the animal shelter. The Williams called me every week to see if it was time. If they were going to be away on a trip, they were in a state of panic that they would miss Katie.

Finally Katie said it was time to go look for her. The Williams called the next day to tell me that they both knew that one of the dogs at the shelter was Katie and brought her home without any question. As soon as they got home they offered their new dog a biscuit. She immediately took it and dashed into the living room to bury it in the cushions of the sofa. Mrs. Williams pulled the biscuit out and offered it to the dog. Mrs. Williams couldn't help but cry as the dog turned her head aside.

Katie was back home.

On a lighter note: I was to give a talk one bitter cold January evening. Someone called to ask if she could bring her parrot to the talk and show it to me. I told her I didn't think it was a good idea to bring a tropical bird out into the weather we were having. She reluctantly agreed.

When the talk was over a young woman came to see me and showed me a photo of a brightly colored parrot. As I saw the photo I also saw a picture in my mind of two bright dog's eyes staring at him.

I told the young woman that her parrot was very beautiful, and asked about her dog. She said she didn't have a dog due to restrictions where she lived. Tenants were only allowed to have birds as pets.

I heard the parrot exclaim, "There's a dog! He watches me all the time. He's stupid! I tell him to leave me alone, and he just stares. Make him go away."

The young woman started to laugh. She told me that she loved dogs and wanted one so much that she bought a very real looking stuffed dog with bright eyes. She thought it would be good company for the parrot, so she put it below his cage where he could see it. She promised to move it as soon as she got home.


What are your visions for your future as an animal communicator and for animal communication in general?

I see the field of animal communication growing more and more. The snowball that you started has become an avalanche that is clearing away old misconceptions of animals, and opening a path for new growth in our understanding and relationships. I cannot think of anything that I would rather be a part of than that avalanche. I will never take communications for granted and want to always be involved.

Anything else you'd like us to know?

I have written two
books
:
Animal Wisdom - How to Hear the Animals
, and
A Second Chance to Say Goodbye
which is about psychic medium Marianne Michaels. Information on both books is on my website

I am also one of the communicators in the video,
Psychic Connections
.

Do you have any advice for
Species Link
readers?

Species Link
is a wealth of information. The articles help me to know that others are able to hear the thoughts of the animals and give them voice. More and more people are able to join this wonderful wave of wisdom, including veterinarians, trainers, and everyday admirers of animals.