Honoring Early Animal Communicators: Jeri Ryan
This series highlights the inspiring breakthroughs of early animal communicators, who began their professional careers over thirty years ago.


When I wrote a
tribute to Jeri Ryan
after her death on March 25, 2022, I had not yet gone through the
Species Link Journal
archives to uncover this interview from Issue 65, Winter 2007. I'm glad to have this information for reference, because it's easy to forget after fifteen years that it was written, even though I wrote it!

In this edited version of the Featured Animal Communicator column Jeri gives details of her upbringing, intriguing twists and turns of her life, and how she came to experience her animal connection. Animal communicators will also benefit from her detailed description of her consultation methods and her client results. May you find her interview fascinating and enlightening.



I have known Jeri Ryan for over twenty years since she first came to an animal communication lecture I gave in 1986, took courses with me, and sponsored my teaching. I remember her house in Oakland, California with her two dear cats and Irish setter. Her dedication to animal rights manifested piles of papers from animal organizations covering her large round dining room table. I remember Jeri saying to me how she loved the fact that I was an advocate for animals.


I thought, "What else would I be through a lifetime of communicating with animals and knowing who animals really are?" I also remember thinking that I was not just an advocate for the animals but for both animals and humans with the intention of fostering mutual harmony and understanding. Jeri was then relishing her awakening to the depth of emotional and spiritual connection possible with animals through telepathic communication.

Jeri and I are both Scorpios with our moons in Sagittarius. We missed sharing the same birthday by only a day (and eleven years). Jeri says of her astrological influences:

"My Scorpio sun/essence brings me to healing strengths. My rising Gemini is the communication sign, and is responsible for my constant hunger for learning. Gemini also reinforces a wish to be and to do good. Gemini also holds a youthful perspective as well as good health and strength for me. My Sagittarius moon has given me teaching strengths. Scorpio and Gemini are sometimes complementary and harmonious, and sometimes in conflict, as water and air signs respectively. It's all about spiritual growth. My 71 years have provided me with a wealth of observations of and experience with life. I cherish everything I have learned in those 71 years, and I cherish being 71. I have not given up on growing intellectually, emotionally and spiritually. That's what makes me 71 years young, and I am grateful for that."

Jeri was the first person to apprentice and teach my Basic Course, and the first animal communicator I referred clients to when I was guided to shift more into writing and teaching than doing individual consultations. Her extensive experience as a counselor and avid learning in animal communication and animal healing subjects forged her into a well-rounded professional animal communicator. Jeri is also one of the most warm-hearted, honest, intelligent, bright, caring, and dedicated people I have ever known.


Animals were Dirty

Unlike many animal communicators, Jeri did not grow up with companion animals or burn with desire to be with animals as a child. Born in 1935 in a small town in Wisconsin, the time and social structure in which she was raised dictated a separation from animals as inferiors. Jeri says of her childhood milieu:

My parents, while being kind and generous people and wishing no harm to animal beings, held a very strong belief that animals were "dirty" and thus could be no part of the family. Dirty was defined as being laden with bacteria that would send us to the grave or just be yucky. Animals were never a topic of discussion until my younger sister, Kathy, formed her own interest. She collected stray animals, who disappeared shortly after they were brought home. I don't remember the stories we were told about them. I do know that in those days in a small town in Wisconsin the existence of any kind of humane shelter was very unlikely. Unwanted animals were shot, drowned, or poisoned. No one ever questioned that.

It was a very puzzling situation. Animals were foreigners. The low-income neighborhood supported a low-income Catholic church, where we learned that animals were to be exploited for human use. That was never explicitly taught. However, we paid great attention to, absorbed, and identified with the beliefs and behavior of adults. To us, these adults were omniscient and made no mistakes.

In those days, Catholicism ruled us with an iron hand. Disobedience was met with the threat of burning in Hell or having hands struck with a ruler or both. I recall a nun pounding the head of a young boy against the blackboard. He was left humiliated and in tears. The blackboard was left with a head-size hole. That was not considered abuse. Today that is abuse. We have come a long way.

In such an autocracy, we were not encouraged to question anything presented to us. Learning took place through memorization and through muffling questions about the veracity of the information presented. I was no different from anyone else. I was puzzled. I wondered. I squelched it all within myself.

My intuition grew and thrived on its own, and one day I discovered it. My parents did give me a most valuable gift that influenced my choice of a career in animal communication. They trusted my life decisions and supported me all the way. I fumbled at times. The love and support were still there. They are gone, and the rest of my family is quite scientifically oriented in their beliefs and in their professions. They continue to love, trust, and support me. I am grateful.


Without Rationale

In public high school and in my first two years of college, I studied foreign languages, with hopes of having a communication career as a foreign interpreter. I loved the romance languages, Spanish and French. I learned them well, and became so accomplished that my teacher asked me to take over her elementary class in Spanish while she underwent major surgery. I was on my way.

Traumatic events so often bring existential questioning and life changes. The then love of my life and I ended our relationship. Crushed, broken-hearted, depressed, I left school and began working for AT&T, a job in communications. That was in the 1950s, not a time when feminist issues and support were active. However, AT&T was somewhat ahead of its time in its practice of advancing women. I advanced quickly into supervisory, training, and public relations positions.

I reached the end of the line at AT&T. Further advancements were jobs that held no appeal for me. That was a signal that it was time to move on. However, the greater signal was that I was getting restless.


This was the beginning of my reliance on my intuition as the source of answers to my life questions.
Without rationale, my intuition sent me to the Registrar's Office at the University of Wisconsin in Madison. He registered me quickly with a major in psychology. Without rationale, my intuition allowed me to make no objection. The registrar sent me to a private dormitory where the Head Resident was in need of an assistant. Without rationale, my intuition accepted and I became that assistant. I was able to support myself and pay tuition during the completion of my undergraduate education.

I moved from Bachelor's Degree to Master's Degree at the University during the infamous 60s, a time of tremendous growth in consciousness with the Vietnam war, the civil rights movement, the sexual revolution, the beginning of gay pride, and the feminist movement. These movements certainly changed my consciousness, and brought me to the heart and purpose of my existence.

I moved into an apartment of my own, supporting myself as a Teaching Assistant in the Department of Psychology. From there I became a pioneer and matriculated at California School of Professional Psychology, an experimental graduate school in San Francisco, where I earned my Ph. D. in clinical psychology. (CSPP is now a large and well established graduate school in psychology.)


Enter the Animals

I met the second love of my life in San Francisco. Without rationale, my intuition made another life decision for me. I followed my boyfriend to his graduate school, Duquesne University in Pittsburgh, Pennsylvania, with a kitten named Kitteness. She was to be a gift for my sister along the way. That never happened. On our road trip, this tiny cat became an integral and very important part of our lives.

That was my real introduction to companion animals. I was well into adulthood. It didn't matter. I was hooked and very quickly assumed the role of maternal caretaker.

Then came two other felines: Ozuye Chikala (Sioux for
Little Warrior
) and Chante Ishta (Sioux for
Eye of the Heart
). Soon, unpapered Irish setter, Calleigh, arrived. All of these beings turned my heart and life around. I haven't been the same since.

I practiced psychotherapy, and trained and supervised other psychotherapists. I studied hypnotherapy, and had some amazing results using it to treat some medical and behavioral problems. I taught psychotherapy in the School of Social Work at West Virginia University.

The time came for my partner and me to move in different directions. I intended to move to Boston until, unexpectedly, without rationale, my intuition announced to me while on a road trip in my van that I was returning to the San Francisco Bay area. One week later, Calleigh and I were driving cross-country, sometimes camping, sometimes sleeping in the car, and sometimes staying in a motel that allowed dogs. Not too many of the latter existed in those days. It was a high adventure.


Soul Recognition

Calleigh and I had a most profound relationship that was mysterious to me. I did not understand it until I met Simon, a handsome malamute that I had rescued and was placing for adoption. As I sat on the floor across from him looking into his eyes, I was astounded at my discovery and I said silently to myself, "There's a soul in there." He immediately came to me and put his head on my shoulder. With that doggie hug, I recognized my introduction to telepathic communication with animal beings. However, that was not important in the moment.

What mattered most was my discovery, through those few moments with Simon, that the depth of my relationship with Calleigh was based on our soul connection. Once again, my heart, my consciousness, and my life were taken to another level of spiritual understanding. In some way, I had always known that nonhuman animals had souls. It was not in my consciousness until Simon so graciously announced it to me. I realized that in some way, humans and nonhumans are on the same plane.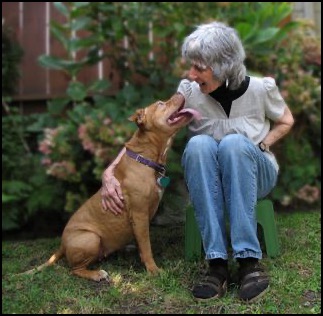 I wanted to learn – NO – to devour anything and everything I could about animals. I attended every lecture and workshop by veterinarians, behaviorists, nutritionists, and by anyone who had vision and training that could expand my understanding and care of my companion animals.

Jeri Ryan with O'Shea


Along came the Animal Rights Movement. Whoa! My consciousness hit so many new and higher levels regarding the role and status of animals in our society and the world-at-large. I changed my lifestyle and participated in this movement for the well-being of nonhuman animals. I marched in the streets, handed out educational leaflets, and frequently lectured at rallies with regard to the brutality and uselessness of certain psychological research with animal subjects.

The Animal Rights Movement informed me extensively and gave my own consciousness nourishment for growth. While I no longer operate directly within the animal rights movement because my method of working for the animals and their persons has changed, I have much gratitude to and respect for that movement.


The Door Opens

I was a practicing psychotherapist and supervisor of other psychotherapists at a community mental health center and in my own private practice when I met Penelope Smith. In my hunger for information and practices that could be useful, I decided to attend her lecture on animal communication. Never did it cross my mind that I would be doing this as a profession. Penelope graciously and with certainty informed her audience that everyone is capable of communicating telepathically with animal beings.

Once again, my intuition came into play. Without rationale, I followed it and began studying with Penelope. It went on from there. I have had several teachers. Penelope has been the most significant. While I have my own format, structure, and style, I still find many pearls of wisdom from Penelope that I use to raise my own consciousness and in my work.

Working with the animals in this way is a highly spiritual endeavor. Thus, the spirituality of each practitioner is opened and advanced, changing our lives dramatically. Once that door is opened, there is no return.


Continual Training

Jeri is an academically and experientially well-rounded animal communicator. Her major career paths before embarking on the study of animal communication emphasized understanding, communication, compassion, and problem solving. Her zeal to prepare herself further for her latest career led her to many teachers. She describes the sea of practical knowledge in which she swims:


Penelope Smith has been my primary teacher/mentor for animal communication. I have also taken courses from Jean Moshovsky and Bea Lydecker. I studied psychic reading with Sandra Mussey. My relevant courses of study include many behavioral courses (all humane training with positive reinforcement). There was also acupressure at the Acupressure Institute in Berkeley, Tellington Touch training with Linda Tellington-Jones and Robin Hood, Reiki to the Master level with a variety of teacher/mentors, Grief Counseling with a variety of teachers/mentors, Chakra assessment and healing with Anodea Judith, Compassion Fatigue with Charles Figley, and Soul Collage with Seena Frost.

Modern physics has been a fabulous teacher and confirmation of what we do as animal communicators. It has pushed its boundaries with its practical application of non-local events, decision making powers of particles which make up the larger whole, the power of intention, and much more. Modern physics legitimizes the spiritual mystery of the cosmos. It supports telepathy and other psychic phenomena and brings to our attention the amazing powers within us all, just waiting to be discovered and cultivated.

My years of training and practice as a clinical psychologist and psychotherapist have promoted an empathic understanding of life's challenges faced by all species. It has supported and expanded an innate respect and compassion for the struggles to meet life's demands and one's own spiritual goals, especially when those two are not congruent. Empathic understanding, respect, and compassion apply to all species.

The animal beings I have met along the way have been the greatest teachers of presence, participation in the moment, unconditional love, authenticity (what you see is what you get!), patience, acceptance, courage, and wisdom. Their persons have also been great teachers by tapping into my empathic, compassionate, humble self, and making sure I come to them from those places.

With telepathic communication, I recognized that the soul in each being, no matter what the species, is the Great Equalizer. All species have different perspectives and abilities, yet all are of value to life.


Developing a Style

In twenty years as an animal communicator, I have deepened and refined my work, as one would expect to find among professionals who wish to grow and to improve their services. As a beginner, I defined my work as interpretation. I interpreted what the animal said. It was when I applied my psychologist/psychotherapist experience that the consultations and thus the relationship between animals and their persons thrived.

My counseling style focuses on being a good listener. Being a good listener calls for hearing the literal account of the client's experience and, more importantly, listening for what is behind it. Operationally, this style also calls for acknowledgement of the client's concerns, emotions, and process, always with compassion, and ideally with a gentle push toward progressing. That progress must take place in and be relevant to the client's concerns and the consultation at hand. The latter is important in order to keep boundaries clear and in order to help the client stay in a listening mode.

Most of my consultations take place over the phone. I have clients all over the world. I work with all animals and with all problems. I keep up to date with tangible information on the animals and their cultures. I rely on my intuition and my understanding of animal culture to provide me with direction for working out solutions to problems with the animals and their persons, as well as my training and experience as a clinical psychologist. I find extensive parallels in my past study of human child development as well as parent/child relationships that applies to most mammals. Emotional capacity applies to all animals.

I have found that having a direct conversation with the animal and writing it all down verbatim provides a view of the animal's process as well as the flavor of her/his personality and communication style. That process is quite valuable for me in terms of honoring what is important to animals and in resolving the issues. The animal's emotional tone also comes through very well. The animal's person appreciates knowing exactly what takes place between his/her animal and the communicator, and has opportunities to plug in with concerns or curiosity about certain parts of the dialogue. Such a dialogue gives the person information and a model for relating consciously with the animal.

I am able to draw out the animal's personality by how I speak with her/him. I also give animals opportunities to speak what is on their minds. I want animal clients to know of my full respect and reverence for who they are as individual personalities with specific strengths and challenges. I want their persons to have opportunities to become more aware of whom their animal friends are on as many levels as possible. I want that awareness to benefit their relationship for everyone's gain. I model for the human how to relate with reverence and compassion. That model contains information to feed the broadening of their awareness. I want the animals to be aware of their persons' needs, responsibilities, and emotional response to the situation at hand. That also expands the animals' awareness, and can be helpful to resolve the issue at hand.

Total empathy with the animal's person allows me to tap into his/her practical, psychological, and emotional experience. The conversation thus moves to a deeper level where intimacy is born and is nourished to thrive.

As I read the dialogue to the person, I am able to empathize with the experience of the animal. The key level of those experiences is the emotional level, since that triggers behaviors that may be functional or dysfunctional. Once that level with all its complexities is understood, choices become available. Significant opportunities for teaching the person and the animal about the other are thus provided. This practice usually results in raising their respective consciousnesses and in enhancing their relationship.

The most important conclusion to a consultation is that both the animal and his/her person have been heard on all relevant levels, and that they are both empowered. In addition to the problem solving inherent in the profession of animal communication, I may include in my sessions chakra healing, short-term psychotherapy, Medical Assistance Program (MAP), and Reiki as a Reiki Master. I am currently learning Quantum Healing.

I am an advocate for both animal and human clients. I speak for each in terms of their needs, concerns, and problems. I work with each toward resolution of the situation in everyone's best interests. I wish to empower each by hearing them, acknowledging them, and by validating their experience. I listen and apply their ideas for solutions wherever they fit, and modify them with respect and compassion as needed.

My human clients know that I will represent them and support their concerns and perspectives in relation to their companion animals and the problems and/or issues presented. My animal clients know that I will listen to them. Both know that I will find a solution that meets their needs and wants and the demands of their respective cultures. The animals know that who they are, what their potential is, and what they can and cannot accomplish will all be brought to their person's attention in order to expand the person's outlook and the understanding between them. I never proselytize with the animals or with their persons.

My clients trust that I will stay grounded in the practicality of their needs without losing the underlying spiritual threads. What I emphasize to clients depends first on the issues and concerns they bring to the consultation. Their agenda must be given priority. The substrate to that is the spiritual ground upon which we all walk.

I like the human clients to be aware of the animal's spiritual nature and of her/his personality. I like the person to become aware of what is possible and what is not possible for their beloved animal companions, as is determined by the implications of the animal's physiognomy as well as by the cultural rules and permissions of his/her species.



Jeri tells a few memorable stories of consultation experiences and shares some valuable observations.


The Endearing

A cat asked for mirrors in his adoptive home. The person responsible for him was very involved in rescue and placement work for cats. Her practice was to ask the cats what kind of home they wanted and she often found homes that were quite faithful to the animals' requests. She was not surprised at his request because there were many mirrors in her home, and he spent lots of time at them.

I asked him the reason for liking mirrors. His motivation had nothing to do with ego. He explained that he wanted to expand his perspective. He showed me himself before a wall of floor to ceiling mirrors, demonstrating the potential for a panoramic view of his environment.

The person found him a home with mirrors.

Another cat asked to be given a bath. Now, no self-respecting cat is likely to want a human-style bath.

It turns out that this particular human family took many baths, and the cats gathered around the tub during bath time. The cat requesting the bath was particularly interested and stood on her hind legs to look deeper into this strange procedure.

Her person decided to find a creative way to give a bath without frightening, insulting, embarrassing the cat, or making her body uncomfortable. She brushed her cat in or near the bathtub, without the presence of water.

The Urgent

A miniature horse was having postpartum depression. She neither ate nor drank. Her condition was so serious that she was given electrolytes through a tube.

I asked her how she felt about her baby, a handsome colt. She loved him and wanted to be a good mother. I told her how wonderful that was and that he needed her to be so. I also suggested that if she wanted to be his good mother for as long as he needed her, she must go to the bucket in her stall and drink. She did so immediately. Eating followed.

A gelding horse showed me pain just above his loin (lower back) toward the left side. The veterinarian took his word as being on target and removed painful and dangerous kidney stones from exactly that spot.

A cat was surgically deprived of his eyes because of a serious infection. His feeding place had to be moved out of reach of the dogs in the family.

He followed my directions as I spoke to him, guiding him to take so many steps to the right and so many steps to the left, climbing some steps, jumping up onto the table, climbing some more handcrafted steps to the feeding station on a very high shelf and directly to the food bowl. It was a bit complicated, but he did it successfully while we were on the phone and thereafter.

A golden retriever told me of a pressure bordering on pain on the upper right side of his abdomen. His conscientious person immediately took him to the veterinarian who diagnosed a mast cell tumor, one that would rapidly grow if not removed immediately. It was removed and he lived a long normal life.

The same dog told me of a searing pain between the toes of one of his front paws. His person checked while we were on the phone. She found the sharply pointed seed of a weed called foxtail.

The Challenging

An adolescent male cat was being a bully to the adult female cat, who was such a gentle soul that she did not ever hiss. As is the case with most macho persona, he was somewhat insecure. He was so caught up in his ego enhancement that nothing convinced him to stop and to build his self-esteem in more peaceful ways. Therefore, we resorted to focusing our communication with the female cat.

I honored her peaceful nature. I reminded her that she could keep peace in her household by merely raising her voice. I reminded her that violence was neither required nor appropriate. I asked that she only make herself big and hiss.

She did. He no longer attacks her. She knows she can hiss if she needs to. They co-exist peacefully.

I love it when animals indicate that they are communicating. A napping dog suddenly opens his/her eye. The napping or wandering cat enters the room with her/his person, sits in front of her/him and stares at her/him during the entire conversation. The bird, playing on his/her jungle gym, stops, freezes and occasionally cocks her/his head to one side and the other.

A dog and his person were having a long-term intense relationship issue. Over the phone with the person and telepathically with the dog, we struggled until we found a mutually satisfactory solution. The dog immediately came to the phone and licked it in thanks.

I was in a stall with a mare and her new person, addressing what the person wanted to say to her newly acquired horse. The mare suddenly moved to the back of the stall and leaned against the wall with her head turned away from us.

I immediately got that she was afraid that I was going to take her from her person and that this had happened before. (Horses do like lifetime commitments.) I telepathically explained that her person actually had a lifetime commitment to her, and that we were discussing how to talk to her about how to make that a happy life for both of them. The horse immediately came forward, put her head between me and her person, and stayed there for the entire communication.

Here is Jeri's sage advice for handling challenging consultations with skeptical clients.

I let go of the pressure by turning the outcome over to divine guidance. I am then free to do the work. Without conducting an intense search, a validating experience comes forth the vast majority of the time. Each exception to that rule reminds me that animal communication is not a useful method for everyone.

I can be strengthened by the lack of validation. Living in a world where charlatans are common, I understand and accept the person's wish for proof. I cannot always provide it. I find that having respected and honored the skeptical person, succeeding consultations are even stronger in their validity. Perhaps this is a reward from the divine.


Jeri's Advice to Animal Communicators:

1. Let go of expectations. We want to get a positive outcome for the well-being of the animals, the persons, and ourselves. The only way we can do that is to stay present to the events of the moment; i.e., to what we are doing. Expectations take us into the future. Even if only seconds away, we are distracted from what we are doing. We want what we are doing to influence the outcome.

Fear usually takes us into expectations. Fear makes doubts. Doubts take us into a negative space. Negative spaces beget negative energy. Such energy may have a negative impact upon the outcome.

2. Clean up your language. Are you minimizing what you receive by saying, "I only got…," or the like? Are you doubting what you receive by saying "I don't know if this is right" or the like? Such language keeps you in the negative space and energy of doubts. Take courage. State exactly what you received without qualifiers. If it's incorrect, learn from it, dismiss it, and notice that you have lived through it. If it's accurate, send it as another building block to your foundation of confidence. In either case, straightforward presentation of the information builds muscles.

Clean up your language by knowing and clarifying your motivation and then by sticking to it. "I'm not good at this." has an intention behind it. The speaker may not be aware of it. It is there. Intention is very powerful. Intention activates motivation. Be careful. Be clear about the intention underlying your utterances. Be sure your motivation and your intention are clear to you and under your control. Be sure you are intending what you want.

3. Forget fear. Remember though that fear is an acronym for False Evidence Appearing Real.

Fear makes anxiety. Anxiety makes blocks to reception. Blocks to reception make the person feel he/she can't do telepathic communication with animals. The evidence for that belief is poor. The blocks conceal the evidence for either case so we don't know one way or the other.

Take the other side of the coin. That is courage, which comes from the heart. Courage, also known as open heart, opens doors and makes the impossible possible.

4. Open your heart. Make a strong intention to have an open heart and practice. An open heart makes you trustworthy to the animals and their persons. Equally as important, perhaps even more so, an open heart makes you trustworthy to yourself. The others can only trust you if you trust yourself. That means that even though you may be less than 100% on target throughout your lifetime of animal communication, you trust your intention, your work, your open heart, and your integrity. That is a dynamite combo. With practice, that combo can take you to a high degree of accuracy.

5. Practice. Mom, the good nuns, and any other teachers I've ever had, said that practice makes perfect. That's because practice brings success and success reinforces the foundation of confidence. Therefore, it's true. Practice makes perfect. You've heard it. You know it. Practice.

6. Be kind to yourself. Love yourself. Build your self-esteem in all the arenas of your life where that is possible. That self-esteem influences trustworthiness and success, and spills from one experienced arena to a less experienced arena.

7. Enjoy! Have fun! This is a highly spiritual endeavor. Be open to spiritual openings.